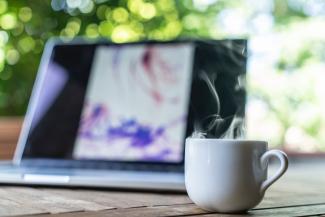 Ways to Communicate with Vawter Financial
In addition to phone conference calls, we are excited to announce that Vawter Financial is now offering video conferences!  We have chosen to utilize the award-winning tool Zoom.  If you are interested in learning how easy it is to use this program click on THIS short YouTube tutorial about How to Join a Meeting.
Need to send a confidential document to us?  There's an easy solution to that as well, your MyMoney website.  In your Vault, there is a Shared Documents folder where you can drop an electronic document for us to view.  Don't have an electronic version of your document?  You can take a photo with your smartphone and text it to the advisor assisting you.
Speaking of text, we have an app for that!  Regulatory compliance requires we log all correspondence with our clients, so we use an app appropriately called Speak!  If you are interested in communicating with us in this fashion just call or email one of us at Vawter Financial and we'll send an invite out to you.