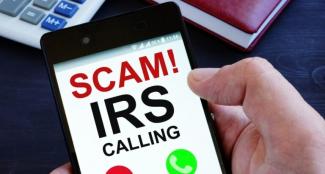 Scammers are impersonating IRS agents over text messages, email, and calling on the phone. The criminal's intent is to scam you out of money, probe personal information and/or install malware that allows them to target you multiple times later.
The threatening tone of these IRS scams tend to be intense and urgent convincing you to do what it says or else a lot of trouble will come your way. And in some cases, the notice may seem benign and procedural, but it's likely a trap.
The IRS sounded the alarm in a warning published earlier this week. Chuck Rettig, IRS commissioner wrote in the bulletin, "With filing season underway, this is a prime period for identity thieves to hit people with realistic-looking emails and texts about their tax returns and refunds."
The first thing you need to do is do nothing. Take a moment before acting or responding. Call the IRS hotline below instead to verify any authentic communication.
How to tell if an IRS text, email, or call is real
---
The general rule remains true no matter how convincing the communication. If you have not already initiated contact with the IRS directly, the only way the IRS initiates communication with you is by letter.
The IRS will NOT text you
The IRS will NOT email you
The IRS will NOT phone you
The IRS will NOT send a link to an IRS website for you to input personal information
The IRS will NOT send an agent to your address without a long history of established warnings, trouble, or avoidance
Do not reply to or interact with anyone claiming to be an official IRS agent unless you already established dialogue with them before. Instead, if in doubt, call the IRS hotline directly at1-800-908-4490 to see if it's real.
IRS rejecting your tax return could mean fraud
---
What to do if you file taxes and get a rejection saying it is a duplicate filing. This likely means that you are a victim of someone filing a fraudulent return on your behalf and need to take action immediately:
Complete the Identity Theft Affidavit on IRS Form 140392.
Attach this completed form to a paper return and follow the IRS instructions for filing.
If you do not get a satisfactory answer, call the IRS at 1-800-908-4490 the official number.
If you think someone filed a fraudulent return in your name, you can get a copy of the fraudulent return by using these instructions to file a form requesting a copy of fraudulent returns.
Check your personal credit for anything unusual or unauthorized activity. You are entitled to a free credit report through the AnnualCreditReport.com website or by calling 1-877-322-8228
Avoid replying to any unsolicited offer for free credit checks which could instead be scams.
How to spot a fake IRS notice scam
---
IRS SCAM #1 You get a letter from the IRS asking about a suspicious tax return that you did not file
IRS SCAM #2 You get a tax transcript in the mail that you did NOT request
IRS SCAM #3 You get an IRS notice that an online account was created in your name
IRS SCAM #4 You get an IRS notice that your existing online account has been accessed or disabled when you took no action
IRS SCAM #5 You get an IRS notice that you owe additional tax or refund offset, or that there are collection actions taken against you for a year you did not file a tax return
IRS SCAM #6 IRS records indicate you received wages or other income from an employer you do not recognize
IRS SCAM #7 You've been assigned an Employer Identification Number but never requested an EIN
Best way to protect yourself from IRS scams
---
Do not give out any information
Hang up immediately if it's a phone call
If you still think the call, email or text could be legit, call the IRS directly at 1-800-829-1040 and do not use any other number listed in a notice you received.
Use malware protection by deploying good anti-virus protection software and apps on all of your devices. 
Report IRS email scams by forwarding the original suspicious email claiming to be from the IRS to phishing@irs.gov