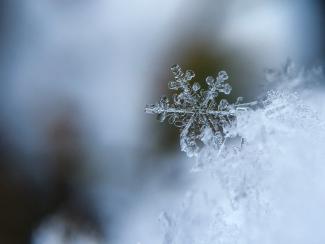 Winter Safety Tips for Your Family
Although this is by no means a complete list of precautions for winter weather safety, we listed some important tips for each of the following groups.
For You and Your Family
Older adults can lose body heat quickly and be unaware that a change in body temperature is occurring, making them susceptible to hypothermia. Hypothermia occurs when our body temperature gets below 95 degrees Fahrenheit. Dressing in multiple layers will help keep them warm and reduce heat loss.
Push snow, instead of lifting it. Pushing snow is easier than lifting it. But if you must lift it, keep these pointers in mind:
Keep your feet hip-width apart

Bend your knees and keep your back straight

Try not to twist your torso when lifting snow

Shovel small amounts of snow at a time

Don't throw the snow into a pile; instead, walk it over to where you want to pile it
For Your Pet
Massaging petroleum jelly or other paw protectants into paw pads before going outside can help protect from salt and chemical agents.  Use baby wipes to clean their paws after a walk.  Booties provide even more coverage and can also prevent sand and salt from getting lodged between bare toes and causing irritation. Use pet-friendly ice melts whenever possible.
Like coolant, antifreeze is a lethal poison for dogs and cats. Be sure to thoroughly clean up any spills from your vehicle, and consider using products that contain propylene glycol rather than ethylene glycol.
For Your Home
Using a fireplace, gas heater or lanterns can lead to carbon monoxide poisoning. Ensure your safety by checking the batteries on your carbon monoxide detector and buying an updated one if you need to.
Be prepared for weather-related emergencies, including power outages. Stock food that needs no cooking or refrigeration and water stored in clean containers.
Ensure that your cell phone and any power banks are fully charged.
For Your Car
Fill up the tank in the car before a trip so you can stay warm if stranded.
The air inside your tires supports the weight of your car. For every 10-degree drop in temperature, tires lose about 1 pound per square inch (psi) of air pressure. A tire filled to 32 psi at 70 degrees will have only 28 psi at 30 degrees. Underinflated tires offer less traction.
Above all, be ready to check on family and neighbors who are especially at risk from cold weather hazards: young children, older adults, and the chronically ill. If you have pets, bring them inside. If you cannot bring them inside, provide adequate, warm shelter and unfrozen water to drink.
It goes without saying…the best way to beat the cold weather is to go someplace warmer!