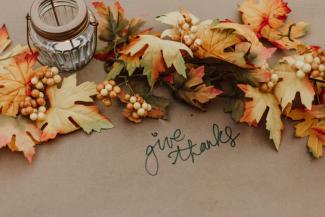 VF Thanksgiving Traditions
Traditions often bring back fond memories and funny stories.  We hope you enjoy reading about our varied turkey filled...or turkey free, traditions and we'd love to hear about yours!  May your table be filled with family and gratitude this holiday season.  Happy Thanksgiving! 
Kris:
Our Thanksgiving traditions are very non-traditional!  We have a blended family and in order to be accommodating to the kids' other parents, we host our celebration on the Sunday after Thanksgiving.  We have a blend of traditional and non-traditional foods as well.  This year the vote appears to be leaning towards 'make your own pizzas'.  We'll have some traditional sides and a couple of dessert choices to go with the main dish (I AWAYS have pumpkin pie though!).  After we gorge ourselves, the girls start the tree trimming and the guys watch football.  We typically end up playing a game of Mexican Dominos or rummy before everyone calls it a night.
Katrina:
Given that we have no family in the entire state of Ohio, we usually end up traveling. We have settled on alternating visiting each side of the family for Christmas and Thanksgiving. This year is unusual in that we will be hosting my parents, brother and new sister-in-law as we often go to my parent's house. We usually have a slightly modified version of a traditional Thanksgiving menu by making all the other dishes vegetarian and omitting the turkey – don't worry, we still have plenty of desserts!
Gary:
We have a "more-the-merrier" philosophy that dates back to our college days when our friends couldn't make it home to their far-away families.  Today having 25 – 30 people is pretty typical usually all at one table at our house.  This includes family, friends, friends-of-friends, neighbors and pretty much anyone that would like to spend time with a large happy group for a full day of camaraderie & cheer.  Dogs are welcome too and play outside during dinner.  Everyone pitches in, we cook a couple of turkeys (oven & fryer) and others bring stuffing, rolls, salad, dessert, and any other traditional fixings.  Clean up is a breeze as everyone helps.
Jackie:
Thanksgiving for my family usually begins with a traditional meal prepared by my mother-in-law and spending the day with Jeff's side of the family. Everyone brings a side dish and we have more than enough to eat with plenty of leftovers for a late-night snack. The next day, we continue the Thanksgiving holiday with my side of the family. We load up the car and drive two hours to Southeastern Ohio. We spend the weekend celebrating Thanksgiving and enjoying each other's company. This is the one time of year my brother, sister and I, with our families, are all together with our dad. Yep, that means there are more than 13 people in the house I grew up in, and we all share one bathroom! Happy Thanksgiving J
William:
Since about five years ago, Thanksgiving day has been celebrated at our house.  My mom and in-laws come to our house to celebrate with my kids.  I believe that Thanksgiving should be a relaxing time, so we order our meal from Der Dutchman and eat on paper plates (but we at least buy the fancy ones from Costco).  Preparation and clean up are both simple and we get to spend the day doing the things we love…football, naps, board games, newspaper advertisements and most importantly, spending time with family!