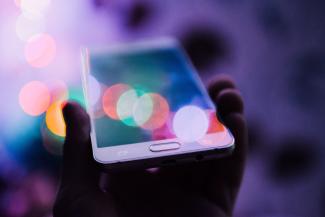 VF Favorite Smartphone Apps
Recently Gary has been raving about an app called, MindBody.  In short, it lists nearby deals on last-minute fitness, wellness and beauty offers.  It's a win-win for the business trying to fill their classes to offer a last-minute deal and for the app user to get a discount.  There are over 52 thousand businesses listed and the app is free.  It is easy to use, just discover service by location, time, date and category with the app filters and then book and track your activities.  This app also connects to your fitness tracker.
With a half-hour commute to the office, William really enjoys the Libby app.  This app allows you to connect to your local library and you can borrow ebooks or audiobooks, instantly, for free, using just the device in your hand.  Libby has an ebook reader and audiobook player.  You can also read on your Kindle device.   Now, William not only looks forward to getting to the office, but he also looks forward to the drive!
Katrina's favorite app actually started out as a website. She's been using the program for many years and credits it with her knowledge of nutrition and food portions. MyFitnessPal is very well named as it helps you lose or maintain your weight. When you first set it up, you input your height, weight, etc. and your goals. The app gives you the number of calories you should eat daily to meet your goals. Inputting everything you eat can seem tedious at first but once you log your meals the app saves them and they are easy to enter again. You can even input recipes that you make regularly. One of the best parts is when you exercise, you get to eat back the calories that you burn! The website syncs seamlessly with the app on your phone and you can use both throughout the day. One of the more helpful parts of the app is that it has a barcode scanner, making it super easy to log new foods. There is a paid version with a few more features, but Katrina has always used the free version and finds the capabilities sufficient for her needs.
Have you ever traveled using public transportation in the city, whether it be Columbus or New York City, and not had any idea which way to go? If you said yes, then you should consider using the Moovit App. Jackie and her family recently took a trip to NYC and found the app very helpful. Moovit is your personal assistant for all your transit rides with real-time arrivals.
Honey, what's our password for … ?
That repetitive phrase is why Keeper is Kris' favorite app.  Since downloading Keeper Family Password Manager that question has become a distant memory.  Now that Kris and her family have all downloaded the app they can share passwords, or not, with a tap of a button. Keeper has a desktop & mobile app and browser extension and they all sync together!  The Family Password Manager is approximately $60 annually and includes 5 private vaults (think of this as 5 separate family member accounts), 10GB secure file storage, unlimited password storage, fingerprint & Face ID logins, unlimited Devices & Sync, secure record sharing and 24/7 Support.  There is also a free version if you don't need to share passwords. You can download the app from their website https://www.keepersecurity.com/
All these apps can downloaded from Apple's App Store or from Google Play.