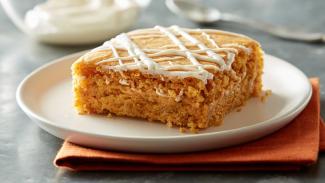 Jackie's family favorite fall dessert is Pumpkin Pudding Dump Cake, the recipe is originally from Betty Crocker.  The boys asked her to make this three times in the span of a week!
Pumpkin Pudding Dump Cake (This is delicious!!)  
Ingredients:
1
box (4-serving size) Jell-O™ vanilla instant pudding & pie filling mix
1 1/2
cups milk or 1 can (12 oz) evaporated milk
1
box Betty Crocker™ Super Moist™ yellow cake mix
1/2
cup pumpkin (not pumpkin pie mix), from 15-oz can
2
teaspoons pumpkin pie spice
1/4
cup Betty Crocker™ Rich & Creamy cream cheese frosting, as drizzle per tip, if desired
Directions:
Heat oven to 350°F. Spray bottom and sides of 13x9-inch pan with cooking spray.
In a large bowl, beat pudding mix and milk with whisk about 2 minutes or until thickened. Stir in cake mix, pumpkin and pumpkin pie spice until well mixed. Spread batter evenly in pan (mixture will be thick).
Bake 30 to 35 minutes or until a toothpick inserted in the center of the cake comes out almost clean. Cool at least 15 minutes before serving.
---
If you know Gary then you know his penchant for ice cream.  Therefore, you will understand why this dessert, which captures the flavor of melting vanilla ice cream and warm apple pie, is his fall favorite.
Vanilla Apple Gratin originally from Midwest Living
Ingredients:
Gala apples (about 2.5 pounds)
1
vanilla bean or 1T vanilla bean paste or extract
¼ Cup
sparkling wine, such as Prosecco
Directions:
Peel and core the apples. Cut each into 12 wedges. Set aside.
Melt butter in a 12-inch broiler-safe skillet over medium-high heat.  Using the tip of a knife, split the vanilla bean lengthwise and scrape the seeds into the skillet.  Toss the bean in, too. (If using vanilla paste or extract, add at this time.)  Add apples; sprinkle with a generous pinch of salt. Cook, stirring occasionally, 10 to 15 minutes or until apples are deeply golden and tender. Remove vanilla bean.
Meanwhile, preheat broiler.  In a medium bowl, whip cream to soft peaks.  Keep chilled.
Heat 1 inch of water in bottom of a double boiler; bring just to a simmer.  In top of double boiler, whisk together egg yolks, sugar and a pinch of salt; add the wine and whisk continuously until mixture is thickened and has doubled in volume (do not boi), t to 5 minutes.  Remove from heat; whisk 1 minute to set and cool. Fold in whipped cream until just combined. (the cream may deflate a bit.)
Spoon cream mixture over apples in the skillet (or arrange apples in 6 individual broiler-safe gratin dishes).  Broil 4 to 5 inches from the heat for 1 to 2 minutes or until topping begins to turn golden (watch carefully!). Serve immediately.
---
Does this office like desserts or what!?  William's fall fav is a Spiced Pineapple Upside-Down Cake, this version is from Taste of Home.
Pineapple Upside-Down Cake, from Taste of Home
Ingredients:
1-1/3 cups
butter, softened, divided
1 cup packed brown sugar
1 can (20 ounces) pineapple slices, drained
10 to 12 maraschino cherries
1/2 cup chopped pecans
1-1/2 cups sugar
2 large eggs, room temperature
1 teaspoon vanilla extract
2 cups all-purpose flour
2 teaspoons baking powder
1/2 teaspoon baking soda
1/2 teaspoon salt
1/2 teaspoon ground cinnamon
1/2 teaspoon ground nutmeg
1 cup buttermilk
Directions:
In a saucepan, melt 2/3 cup butter; stir in brown sugar. Spread in the bottom of an ungreased heavy 12-in. ovenproof skillet or a 13x9-in. baking pan. Arrange pineapple in a single layer over sugar mixture; place a cherry in the center of each slice. Sprinkle with pecans and set aside.
In a large bowl, cream sugar and remaining butter until light and fluffy. Add eggs, one at a time, beating well after each addition. Beat in vanilla. Combine the flour, baking powder, baking soda, salt, cinnamon, and nutmeg; add alternately to batter with buttermilk, beating well after each addition.
Carefully pour over the pineapple. Bake at 350° until a toothpick inserted in the center comes out clean, about 40 minutes for a skillet, 50-60 minutes for the baking pan. Immediately invert onto a serving platter. Serve warm.
---
Kris has a favorite side dish she likes to serve for Thanksgiving dinner.  It's a wonderful side that can be made a day or two ahead!
Roasted Butternut Squash Quinoa Salad. from food fanatic
Ingredients:
1
small Butternut Squash, About 3 cups, cut into 1/2 inch cubes
2
cups Chicken Stock, Or vegetable stock
1/2
cup Dried Cranberries
1/3
cup Chopped Italian Parsley
1/3
cup Thinly Sliced Scallions
1/2
cup Roasted Salted Pumpkin Seeds
1/2
cup Fresh Pomegranate Seeds
Pomegranate Molasses or Balsamic glaze
Directions:
Preheat the oven to 375°F. Line a baking sheet with parchment paper.
Place the butternut squash on the baking sheet. Drizzle with 2 tablespoons of olive oil and sprinkle with a generous pinch of salt and pepper. Roast for 25-30 minutes, stirring occasionally.
Heat the remaining olive oil in a saucepan over medium heat. Add the quinoa to the pan and toast for 3-4 minutes, stirring often. Stir in the chicken or vegetable stock and a generous pinch of salt. Bring the mixture to a boil. Turn down the heat to low and cover the pan; cook for 15-20 minutes, or until the quinoa has absorbed all of the liquid. Take the pan off the heat and allow the quinoa to rest for 5 minutes covered. Fluff with a fork.
Transfer the quinoa to a large serving bowl. Gently fold in butternut squash, cranberries, parsley, scallions, pumpkin seeds, feta cheese, and pomegranate seeds. Season with salt and pepper to taste. Drizzle the mixture with the pomegranate molasses.
Note:
If you're not planning on serving the salad immediately, refrain from adding the molasses and transfer the mixture to an airtight container. The salad will stay fresh in the refrigerator for 2 days.
---
On those crisp fall days, Katrina likes to whip up this warm and flavorful soup for her family. 
Red Lentil and Butternut Squash Soup from GreenBean Delivery
Ingredients:
2 teaspoons
coarse sea salt
2
tablespoons curry powder
2
tablespoons unsalted butter
1
onion, cut into ½ -inch dice
1
tablespoon freshly grated ginger
1
butternut squash (about 1 ½ pounds), peeled, seeded, and cut into ½ - inch pieces
6
cups chicken or vegetable broth or water
1/2
cup loosely chopped cilantro (optional)
Directions:
Combine salt and curry powder, set aside.  Rinse lentils; set aside. Heat butter in a large saucepan over medium heat.  Add curry mixture; stir until fragrant, about 1 minute.  Add onion, garlic, and ginger, cook until translucent, about 4 minutes.  Add squash; cook until just beginning to soften, about 5 minutes.  Add broth or water.  Bring to a boil; reduce to a simmer.  Cook until squash is tender, about 10 minutes.  Stir in lentils; cook until soft, 10 to 15 minutes.  Adjust seasonings with salt and pepper.  Serve hot.