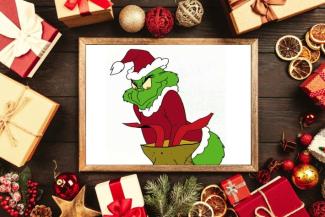 Tis the season to be GRINCHED!
Ahh, the holidays!  Family gatherings, the savory smells of your favorite foods wafting in the air, lights twinkling everywhere ……….and your wallet getting ripped off?!  It happens every season and the grinches seem to become more clever as each year passes.  Be a good little elf and read some tips below on how to protect your wallet and keep the jolly in your holiday this season.
Look closely while shopping online.  "Spoofing sites" and fake social media posts lure you to purchase products that will never arrive at your front door.  Check that website twice!  Mouse over links in emails and social media ads to display the real URL and click only if you are certain it is a legitimate site.  Even better, go to a web browser and enter the site's name instead of using a hyperlink embedded in the social media "click here" button. 
Pay by credit card so you can dispute charges.
Research unfamiliar websites to see if the retailer has favorable reviews.
Check that the retailer has return and refund policies.
Do not purchase on a website that doesn't begin with "https://" or doesn't have a padlock or unbroken key icon in the address bar.  These are security indicators to let you know you have a safe connection.
Don't ever make a purchase on a public Wi-Fi network.  If you are shopping on your phone you can switch off Wi-Fi and use your cellular data to make a purchase.
Never make a purchase or donation if the transaction requires payment by prepaid card, gift card or wire transfer.  You are literally throwing away your hard-earned Santa bucks.
Speaking of gift cards, be careful when purchasing these for loved ones.  They make great gifts, especially for those hard to shop for elves, but grinches are now slyly scratching off the film strip on the back of gift cards to retrieve the PIN, which is then covered back up with easily attained replacement stickers.  The card numbers and PINs are then entered into a computer program that frequently checks the retailer's website.  When someone buys and loads the compromised card, the scammer is notified and can spend or transfer the money on the card before the buyer has even had a chance to use it.  When purchasing gift cards look closely for signs of tampering and buy from stores that keep them close to or behind registers.