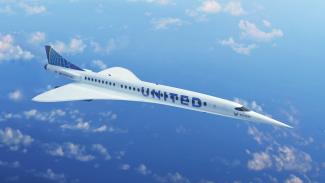 People with long memories might recall the Concorde, a commercial plane that mostly flew travelers on long trans-oceanic flights at speeds exceeding the speed of sound.  That experiment didn't go so well, due to high ticket costs and modest demand for two or three fewer hours in the air. 
But now we may be about to experience supersonic travel once again.  American Airlines just signed a contract to buy 20 planes from a company called Boom Supersonic, which comes on the heels of a 15 plane commitment from United Airlines.  The planes will cut the 9-hour flying time from Miami to London to less than five hours, and the 10-hour flight from Seattle to Tokyo down to roughly six hours.  Passengers will experience top flight speeds of 1,304 miles per hour, and the planes are reportedly very fuel-efficient and therefore low-emission. 
But don't buy your tickets yet.  The first Boom Supersonic planes are expected to be in the air in 2026, and to enter commercial service by the end of the decade. 
Source: 
https://www.cnbc.com/2022/08/16/american-airlines-agrees-to-buy-20-supersonic-planes-from-boom.html