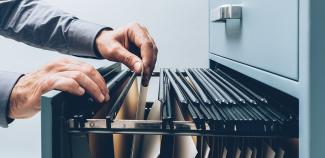 Are you a small business owner? If you are, you know that record retention can sometimes be difficult. From employees not passing along proper documentation of expenses to that "extra office" that is full of invoices from 1988.
How do you know how much to keep and for how long? Obviously, the answer is going to be industry specific, but here is a good summary of how long to keep specific documents. If you are just starting out, you might find this quiz from the Small Business Association a good tool to help you get started.
In the mobile age, there are apps to help you organize and keep track of your data while on the go. Check out some of the apps we have used:
Expensify is an app for both iPhone and Android that allows you to link your credit card and it will automatically create an expense report for that next business trip. Don't want to link your card? You can also take pictures of your receipts. Expensify will pull the needed information from the picture and create your expense report. Goodbye paper receipts!
Dropbox is one of the most popular cloud-based platforms for storing and sharing documents securely. Purchase a new scanner and you can get rid of all those old files stored in that extra office!
While Quickbooks remains the most recognized and widely used accounting software for small businesses, we have seen a recent surge in the use of Wave for companies with fewer than 9 employees. It will allow you to track sales and expenses, create invoices, help with payroll and is even starting to compete with Square and Paypal in the online payment processing sector.
So what is the best app you have used for your small business?
Do you know a business owner? Please forward this article via the links below!