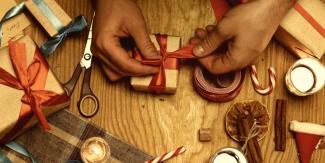 Holiday Tips from Vawter Financial
It's that time of year again! Spending time with your loved ones and time to do a little holiday shopping or a lot of holiday shopping, but where do you even begin?

First, it might be helpful to ask yourself a few questions before you start.
What kind of shopper are you?

Do you start months in advance or do you wait until the last minute?

Who's on your list?

What supplies do you need?

Do you wrap or leave unwrapped?

How do you plan to pay for everything?
And the most important question you need to ask yourself is, Do You Have a Budget?

Wow, seems like a lot to think about but don't let it stress you out. We found a few good articles that will help keep your gift-giving in check this year.  At Vawter Financial, we wish you a happy holiday!
7 Ways to Avoid Overspending on Holiday Shopping
9 Expert Tips to Avoid Overspending During the Holidays