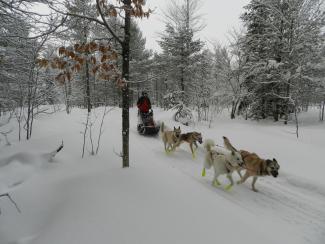 Employee Spotlight - Jackie Washburn
At Vawter Financial we believe in living life to the fullest.  We love to celebrate and share our personal adventures and accomplishments with one another and thought it would be nice to include you. We introduce to you, The Employee Spotlight.
 
Our very first employee spotlight, features our Client Services Manager, Jackie Washburn.
 
What Are You Waiting For?
 
Do you ever dream of going on a vacation that you think of being a once in a lifetime experience but just can't take the plunge? That's exactly how Jackie felt when the opportunity came about for her and her twin sons, Jacob and Ryan, to go dog sledding in the Upper Peninsula of Michigan. Never in a million years would she have thought of enduring the frigid below zero temps to ride a sled pulled by dogs, until her boys wanted to join the adventure.
 
Thankful for the planning by a few scout parents, the trip began to come together. It was going to be cold, but everyone was so excited to take on this experience. Finally, the travel day came, and the group headed north to Nature's Kennel in McMillan, Michigan. After 8 long hours in the car, the group of 6 teen boys and 4 parents arrived at Nature's Kennel. The group took a short lesson on how to harness the dogs and prep their sleds before they were off for a 20-mile trek to musher's camp where they would stay overnight. Let's just say the scenery was unbelievable. The trip to camp took about 2 hours. Once at camp everyone got to spend time cuddling the dogs and sharing stories of how they enjoyed the sledding. The trip was absolutely AMAZING. Check out some of Jackie's memories made along the way. If you have a vacation you dream of doing, DO IT! You will never regret doing something that you love, especially, when you are with the ones you love! So what are you waiting for?