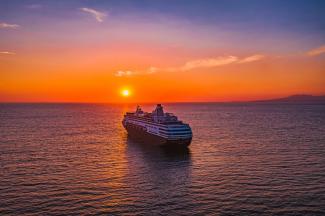 Are you ready to get back on a luxury cruise?  A surprising number of people are answering "yes."  
According to the website CruiseMarketWatch.com, post COVID-19 sailings will begin, industry-wide, on March 1 of this year, and the cruise industry will resume its operations at roughly 50% capacity, based on advance bookings.  The site expects the ships to reach 90% capacity by the end of the year, and after that the cruise ship market is projected to get back to being chronically overbooked. 
But the experience will not be exactly the same for those brave pioneers who step back aboard luxury liners.  For one thing, under the new Cruise Passenger Protection Act, all cruise ships will be required to have a trained physician onboard, and they must install video cameras in all public places.  New air filters and purification systems are being installed in the interior cabins on several lines, including Norwegian Cruise Line, Oceania Cruises and Regent Seven Seas Cruises.   
In addition, passengers will be required to undergo testing before boarding the ship and before disembarking the ship at their final destination, and fill out health screening questionnaires in advance of their trip.  Face masks will be required onboard ships in all public spaces.  Restaurant tables will be more spaced out, and crew members will serve guests at buffets, instead of the usual self-serve protocol.  And perhaps most importantly, for the first part of the year at least, the Center for Disease Control has mandated that cruise sailings will be limited to no longer than seven days. 
It's possible that the booking data is misleading.  Many cruise lines are allowing guests who book now for a cruise departing before December 31 to cancel up to 30 days before departure and receive a 100% credit good toward sailings through December 21, 2022.  So some of the capacity may shift into next year if the pandemic is not under control by the summer months. 
Sources: 
https://cruisemarketwatch.com/ 
https://www.travelpulse.com/gallery/cruise/11-ways-the-cruise-industry-will-change-in-2021.html