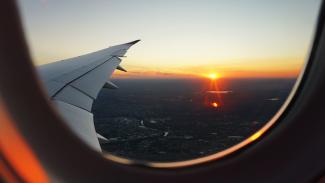 COVID Restrictions on International Travel
From January through October of last year, there were 900 million fewer international tourists from the same period the year before—due, of course, to the global pandemic.  That's not especially catastrophic for the U.S. economy, since travel and tourism represents only 2.8% of U.S. GDP.  But what about the Philippines, where international tourists sustain 25% of the country's total economic activity?  Tourist arrivals there are down 84%.  Other countries that rely on international travelers include Thailand (22% of GDP, visitors down 83%); Greece (22%, down 77%); Portugal (19%, down 75%); Hong Kong (17%, down 94%) and Mexico (17%, down 46%).   
The situation is not likely to get better for international travel—at least for a while.  A website operated by an individual who calls himself "The Points Guy" tells us that we can't travel to Canada currently; the border remains closed at least until April 21, and any foreigner attempting to enter the country for reasons of tourism, recreation or entertainment will be turned away.  Mexico, meanwhile, has opened all of its airports to Americans who are willing to undergo health checks, but unlike most countries, Mexico imposes no testing requirements.  
U.S. citizens are currently banned from travel to Croatia, Belgium, the Czech Republic, Denmark, Estonia, Finland, France, Germany, Greece, Hungary, Iceland, Italy, Norway, Poland, Portugal, Russia, Sweden, Argentina, Chile, Paraguay, China, India, Indonesia, Japan, Malaysia, the Philippines, Taiwan, Vietnam, Australia, New Zealand, Israel and Saudi Arabia.  
Still technically open to Americans are Ireland (which requires 14 days of self-quarantine for all incoming travelers), Serbia (which requires a negative PCR test within the previous 48 hours), Switzerland (business travel only), Turkey (14-day quarantine after arrival), the U.K. (requires proof of a negative COVID-19 test and 10-day quarantine), Brazil (no testing or quarantine required), Colombia (requires proof of a negative COVID-19 test), Ecuador (proof of negative test), Peru (14-day quarantine), Pakistan (negative test), South Korea (14-day quarantine), Thailand (Americans can apply for a 60-day visa and present proof of medical insurance plus a bank statement, and a reservation at one of the nation's alternative state quarantine hotels for 14 nights), Egypt (negative test), Kenya (negative test), Morocco (negative test), Nigeria (negative test), and South Africa (negative test). 
Sources: 
https://www.selectusa.gov/travel-tourism-and-hospitality-industry-united-states 
https://www.gzeromedia.com/the-graphic-truth-tourism-reliant-economies-take-a-hit 
https://thepointsguy.com/guide/reopening-soon-a-country-by-country-guide-to-coronavirus-recovery/