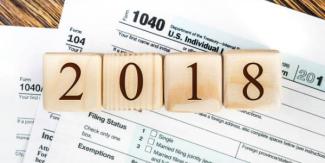 With so much uncertainly in the income tax arena headed into 2018, we wanted to share with you some of the inflationary adjustments and Ohio tax changes that are certain to happen and the actions you need to take come January 1st:


Retirement Plan Contributions – If you currently make contributions to your 401(k), 403(b), TSP, or 457 plans, the contribution limits are increasing by $500 next year.  You are now able to contribute $18,500.  However, the additional $6,000 catch-up contribution for those age 50+ remains unchanged.
Action- Be sure to increase your annual contributions after the first of the year to take advantage of this additional tax deferral.
IRA Contributions – IRA contribution limits have remained unchanged at $5,500 with an additional $1,000 catch up contribution for those age 50+.  However, there were slight adjustments upward in the amount of income one can earn and make contributions to an IRA or Roth account.
Action- Talk with a VF advisor to see if you are able to take advantage of the new IRA income limits.
College Savings – Ohio has increased the annual state tax deduction for contributions to the CollegeAdvantage (Ohio's 529 college savings plan) from $2,000/beneficiary to $4,000/beneficiary.
Action- If you are making monthly or annual contributions to a CollegeAdvantage account, but sure to increase your monthly or annual contribution to the new limit.
Gifting – If you have implemented a gifting strategy to your family, your annual gifting limits are increasing by $1,000.  Starting in 2018 you can now gift $15,000 per recipient ($30,000 per couple) without an estate tax impact.
Action- Revisit your estate plan to see if a family gifting strategy could benefit you and your heirs.
Social Security – If you are receiving Social Security benefits, you will be seeing a 2% cost of living adjustment in 2018.
Action- No action required.  Just don't spend all that raise in one place!