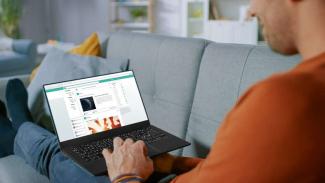 BBB Tip: How to spot a fake social media account
Fake social media accounts can promote phony products, spread scams and even share lies and misinformation. It's important to spot a phony account right away - before you engage with their content. The following tips will help you discern which social media accounts are real and which are fake. 
Tips for Identifying Fake Social Media Accounts 
Look closely at the content. Scammers and spreaders of false information often fill their feeds with stock images, memes or other recycled images that are not original. They may use profile pictures that are not of an actual person, or simply an avatar. Be wary of accounts with no original images. Posts that contain no written content at all, or written content with many spelling or grammatical errors, could be signs of a fake account as well. 
 

Analyze account transparency. Ask yourself, who runs this account? If an account profile is little more than generic phrases, quotes, or introductions, with no specifics about a person's name, occupation, or background, you may have stumbled across a fake account. 
 

Inspect the quality of engagement. Some fake social media accounts purchase engagement. This means that, at first glance, their account appears to have many real followers. However, these purchased fans and followers typically leave comments unrelated to the post, comments that are just emojis, and multiple comments from a single individual that aren't part of a conversation. Even real accounts inevitably gather a few fake followers, but if the bulk of the engagement looks fake, steer clear. 
 

Examine the follower-to-engagement ratio. Account owners can also buy followers, so one tell-tale sign of a fake account is thousands of followers, with little to no engagement. 
 
For More Information 
Read more on social media influencers. To learn more about safely using social media to promote your business, see the BBB Business Tip: 5 easy ways to use social media to help your small business. 
Help your children stay safe with these Social Media Safety Tips. 
Source:
(Getty Images) 
By Better Business Bureau. December 3, 2020.